Louisiana Solar Solutions (LSS) is locally owned and operated with a vision to improve our local environment. We are currently working with local builders and home buyers to improve the energy efficiency of homes. LSS is excited to be the first to offer Solar to Warehouse District Lofts, a unique housing development, and also to be involved in the first "Solar Development" in Lafayette.
There has never been a better time to go solar, than NOW! The state of Louisiana is offering the best tax credits in the country along with the federal tax credit. As you invest in solar, you will recieve 80% of your investment back with the 2 tax credits!
State Tax Credit: 50%
Federal Tax Credit: 30%
Financing is also available.
Energy efficiency is a cornerstone of any green building project. Generation and use of energy are major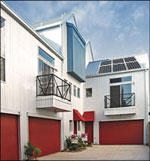 contributors to air pollution and global climate change. Improving energy efficiency and using renewable energy sources are effective ways to improve air quality and reduce the impacts of global warming.
Improving energy efficiency is also an economically effective choice for consumers. Lowering utility expenses allows residents to enjoy the financial benefits year after year.
The first step to increase energy efficiency is to add insulation and weather stripping wherever possible, install double-glazed/low-E windows and upgrade to high-efficiency appliances. Other energy upgrades/choices include installing solar water heaters, photovoltaic panels, and purchasing "green power" generated from renewable sources like the sun, wind and biomass (when available).